The Internal Medicine residency has had an international rotation in Bolivia for over 10 years! The rotation is based at the Centro Medico Humberto Parra clinic in Palacios, Bolivia and the Hospital Japones in Santa Cruz, Bolivia. This rotation was developed by faculty member and Professor of Medicine, Mark Molitch, MD, of the Division of Endocrinology. Through clinical and didactic experiences, residents care for patients in both urban and rural locations. Residents see and treat patients with conditions such as Chagas' disease and its related heart failure, malaria, Dengue fever, snake bites, anthrax and yellow fever. Due to the high number of Spanish speaking patients who receive care at Northwestern Memorial Hospital, this rotation is an excellent introduction to cultural competence as well as tropical medicine.

In 2014, the department began a global health certificate program under the direction of Ashti Doobay-Persaud, MD and designed specifically for busy residents. The program includes night classes training residents in global health related competencies and team based projects. In conjunction with the certificate program, an additional international site was added for IM residents in Belize called the Hillside Healthcare Clinic.
The success of global health at Northwestern extends into research opportunities in ID, cardiology and oncology, among others. A post-residency fellowship program at Northwestern also began in 2015. The investment in global health has allowed Northwestern and our residency to both contribute to global communities and provide residents a life-changing education. Click on the links to learn about the fantastic experiences offered through the Bolivia and Belize clinics, as well as the robust curriculum available in global health.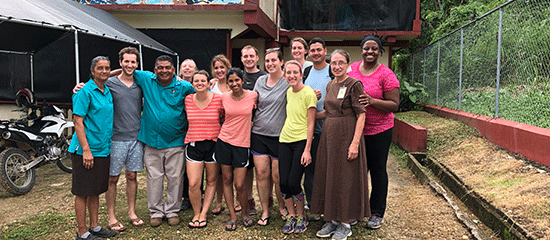 Dr. Elisha Singer (class of 2018) and Dr. Namita Jain (class of 2019) working at Hillside Clinic in Belize that serves local residents and villages in the surrounding area.