Quality Improvement and Patient Safety
Quality improvement and patient safety initiatives permeate the inpatient and outpatient setting that residents work in at Northwestern Medicine. The residency program has a strong focus on quality improvement and patient safety ranging from experiential learning through clinical care to unique quality projects and hospital committee work. As our health care system rapidly evolves we have been able to adapt our educational curriculum to keep up with the changes.
For residents set on a career path in quality improvement and patient safety, Northwestern offers a Master's degree in Healthcare Quality and Patient Safety.
 
For more information about education in Quality Improvement and Patient Safety for Northwestern residents, contact Aashish Didwania MD, residency program director.
A featured program for residents interested in quality improvement is the Academy for Quality and Safety Improvement (AQSI). The Academy for Quality and Safety Improvement (AQSI) is a six-month professional development program designed to equip healthcare professionals with the knowledge and skills needed to effectively lead quality improvement. It began as a collaboration among the Department of Medicine, the Master's Program in Healthcare Quality and Patient Safety offered through the Center for Healthcare Studies, and the Northwestern Memorial Hospital Process Improvement Department, with the first cohort completing the program in spring 2013. Though initially offered only to the Department of Medicine, the program is expanding, inviting applications from the Departments of Surgery, Emergency Medicine, and Neurology for fall of 2013.
Residents and fellows at any level are able to join teams focused on a particular clinical area. Individuals join teams of shared interest, participate in workshops and didactics and develop a quality improvement project over the course of an academic year. Here is a listing of recent and current residents who have participated:
AQSI Projects 2017-2018

Team Members

Emergency Medicine Teams 

To optimize opioid perscribing for patients discharged from NMH ED
AQSI Leader: Quentin Reuter and Jon Andereck
AQSI Team Members: Katie Allen, Howard Kim, Sean Connolly, Ravi Kesari, Sina Ansari, Aaron Quarles

Hematology/Oncology Teams 

Decrease unnecessary C. difficile testing in patients undergiong a Hematopoietic Stem Cell Transplant (HSCT)
AQSI Leader: Kehinde Adekola
AQSI Team Members: Katie McGowan, Briana Steffenhagen, Sarah Sutton, Daniel Wojenski, Viki Barr, Joanna Varkos, Chao Qi, Asra Salim, Edra Sierra, Jessica McClure, Nicolas Simon

Pulmonary and Critical Care Teams 

To decrease the use of broad spectrum antibiotic use on intubated MICU patients
AQSI Leader: Chiagozie Pickens
AQSI Team Members: Joe Bodkin, Nicole DeCredico, Madeleine Heldman, Stephanie Katcheriean, Laura Kelly, Natalia Molinas, Sankit Thakkar, Bryan Lizza, Joseph Paonessa 

Nephrology Teams 

Improving the care of ESRD patients diagnosed with upper extremity DVT
AQSI Leader: Adam Safdi
AQSI Team Members: Thomas Byrd, Courtney Furlough, Alex Leidner, Christine Limonte, Shamsa Baaj, Yuan Cao, Patricia Astleford

Urology Teams 

Improving compliance to prostate cancer survillence protocol
AQSI Leader: Ashima Singal, Mary Kate Keeter, and Arden Roston 
AQSI Team Members: Lauren Lee

AQSI Projects 2016-2017

Team Members

Emergency Medicine Teams 

Improving evaluation of patients with a head injury and clinical suspicion for a concussion who present to
AQSI Leader: James Kenny and Christopher Hogrefe
AQSI Team Members: Charlie Caffrey and Keith Hemmert

Medicine, Cardiology, & Hospital Medicine Collaborations

Improving understanding of and adherence to discharge cardiac medications for patients leaving the hospital with acute heart failure
AQSI Leader: R. Kannan Mutharasan, Gopi Astik, and Maya Defoe
AQSI Team Members: Ansel Amaral, Mansi Bhat, Baljash Cheema, Hawkins Gay, Neta Linnville, Kaleigh Nolan, Amanda Vlcek, Quentin Youmans

Medicine & Pulmonary & Critical Care Team Collaborations

Improving end-of-life care for patients who are suffering from respiratory illnesses
AQSI Leader: Alexandra Frogameni and Susan Russell
AQSI Team Members: Lauren Chiec, Sarah Chuzi, Adeboye Ogunseitan, Melanie Smith, Michael Washingon
Implementing daily spontaneous awakening trials for patients on continuous sedatives while mechanically ventilated in the medical intensive care unit (MICU)

AQSI Leader: Joseph Paonessa and Alexandra Frogameni
AQSI Team Members: Victoria Behrend, Christopher French, Elizabeth Short, Keerthi Ranganath 

Surgery/Trauma and Critical Care Teams

Better identify frailty among elderly trauma surgery patients and implement interventions to improve their outcomes
AQSI Leader: Joseph Posluszny
AQSI Team Members: Allison Ambre, Joliette Barnum, Jonathan Bean, Amanda Dunbar, Kathryn Engelhardt, Mara Markzon, Tara Reddy, Quentin Reuter

Psychiatry Teams

Improving patient and healthcare worker safety
AQSI Leader: Lisa Rosenthal
AQSI Team Members: Alan Amberg, Megan Malladi, Megan Oakford, Sylvia Ranalli, Geetha Reddy, Patricia Roberts, Mohammad Salahuddin, Arielle Sommer, Adrienne Taylor, Robert Turelli 

AQSI Projects 2015-2016

Team Members

Emergency Medicine & Medicine Team Collaborations

Guideline-based care of cellulitis beginning in the ED
AQSI Leader: Ashfaq Ahmad
AQSI Team Members: Gopi Astik, Darren Boyd, Adnan Hussain, Andrew Moore, Heather Provencher, Margaret Ragland, Deepti Singhvi
Proper utilization of blood cultures for bacteremia in the ED and appropriate use of re-culturing on the general medicine floor
AQSI Leader: Grant Scott and Michael Angarone
AQSI Team Members: Eric Cantey, Erica Donnan, Abra Fant, Eric Hansen, Jordan Kaylor, Vanessa Kiepura

Medicine Teams

Improving patients' understanding of the heart failure disease process and managing the disease
AQSI Leader: Corrine Benacka
AQSI Team Members: Farah Barada, Alexandra Goodwin, Jacqueline Jimenez, Abbey Lichten, Chiagozie Ononye
Improving vaccination practices for heart transplant candidates and recipients
AQSI Leader: Ellie Sukerman
AQSI Team Members: Mary Alice Ackerman, Amy Chen, Michelle Huber, Valentina Stosor, Stephanie Wedlake, Jane Wilcox

Surgery & Medicine Team Collaborations

More efficiently evaluate and care for patients referred for lung transplant evaluation
AQSI Leader: David Odell
AQSI Team Members: Sangeeta Bhorade, Jennifer Wright, PJ DeCamp, Cindy Parker

Surgery Teams

Implementing enhanced recovery protocols for patients undergoing bowel resection at NMH
AQSI Leader: Michael McGee
AQSI Team Members: Katie Gonzalez, Lindsey Kreutzer, Ragavan Narayanan, Sonali Oberoi, Sabine Sobek, Leah Tatebe, Molly Wasserman, Meltem Yilmaz
Increasing access to living donor kidney transplantation
AQSI Leader: Anton Skaro
AQSI Team Members: Nicole Beauvais, Kate Thomas, Joseph Levanthal
AQSI Projects 2014-2015

Team Members

Emergency Medicine & Medicine Team Collaborations

Standardization of sedation usage post-intubation beginning in the ED and continuing to the MICU
AQSI Leader: Colin McCloskey and Leah Goldschmidt
AQSI Team Members: Sushil Jain, Elise Johnston, Marc Sala
Protocolize the care of patients with sepsis and septic shock presenting to the ED
AQSI Leader: Raj Shah
AQSI Team Members: Kory Gebhardt, Mark Landmeier, Colin McCloskey, Joshua Zimmerman

Emergency Medicine & Neurology Team Collaborations

Improved quality, efficiency, and timeliness of care for patients with neurologic emergencies in the ED
AQSI Leader: Victoria Weston and Sanjiv Malik
AQSI Team Members: Deborah Bergman, Rebecca Caton, Natalie Cornay, Alexi Gurick, Veronica Penyak, Ilana Ruff, Meredith West

Medicine Teams

Reducing inappropriate use of continuous telemetry monitoring on inpatient medical services
AQSI Leader: Chetan Huded and Julia Vermylen
AQSI Team Members: Lora AlKhawam, Maribeth Beahan, Lee-Shing Chang, Rachel Cyrus, Julie Friedman, Jill Huded, Sushil Jain
Improved management of tobacco dependence
AQSI Leader: Clara Schroedl
AQSI Team Members: Margaret Chapman, Aashish Didwania,  Natasha Lloyd Nichols, Caroline Novak, Lakshmi Sivarajan, Carol Southard

Surgery Teams

Improve the second opinion process at the Lynn Sage Breast Center
AQSI Leader: Kevin Bethke
AQSI Team Members: Denise Dale, Nora Hansen, Laura Smith
Decrease the incidence of catheter-acquired urinary tract infections in surgical patients
AQSI Leader: Anthony Yang
AQSI Team Members: Raelene Kennedy, Kara Nelis, Nicole Siparsky, Michael Wandling
AQSI Projects 2013-2014

Team Members

Emergency Medicine Teams

Follow-up on incidental findings in the ED
AQSI Leader: Theodore Elsaesser
AQSI Team Members: Ashley Amick, Chris Frantz, Matthew Kuhns, Juliet Seery
Safe and efficacious use of conscious sedation in the ED
AQSI Leaders: Charles Pearce, Peter Samuel
AQSI Team Members: Shannon Guy

Medicine Teams

Reducing errors in system lab orders
AQSI Leader: Anna Galindo
AQSI Team Members: Nikole Drever, Valerie Trudeau
Improvement in guideline-based management of febrile neutropenia
AQSI Leader: Michael Hoffman
AQSI Team Members: Ryan Buck, Suchi Gandhi, Jeremy Katzen, Sarah Sutton, Kelley Wachsberg, Charlotta Weaver, Sarah Yentz
Non-AQSI Team Members: Daniel Boyle, Elizabeth Cull, Kaitlyn Johnson, Jean Patel
Increasing number of completed Power of Attorney documents for stem cell transplant patients
AQSI Leader: Kathy Neely
AQSI Team Members: Jeanne Martinez
Non-AQSI Team Members: Sara Flickner, Andrea Lietz, Colleen Welles, Adam Petrich
Blood transfusion utilization and cost in oncology patients
AQSI Leaders: Kelley Wachsberg, Ryan Buck
AQSI Team Members: Kelly Dorsey, Michael Hoffman, Jeremy Katzen, Brandon McMahon, Lina Marcheschi, Charlotta Weaver
Non-AQSI Team Members: Lisa Bentley, Elizabeth Mueller, Glenn Ramsey, Sigmund Weitzman
Improving transitions from NMH to skilled nursing facilities
AQSI Leader: David Yu
AQSI Team Members: Kathryn O'Brien, Elizabeth Walsh, Lindsay Werth
Non-AQSI Team Members: Robert Young
Residents are actively recruited to participate in hospital quality committees and projects. Each quarter, committees are advertised to program directors which are then sent out to residents. Committees offer a learning opportunity into the operations of hospital systems and large quality initiatives ranging from appropriate use of blood products, to fall prevention. Residents often serve as front-line clinician consultants and in some instances take a lead in committee work that turns into a research project. Below is the recent listing of quality committees.
Committee

Purpose

Chairs

Quality Leader

Cancer QM

Develops and implements annual quality plans; provides direction in conducting quailty reviews; monitors quality outcomes for the department/service

Jim Brandman, MD; Rebecca Caires, Maribeth Mielnicki

Terri Halverson

Quality Management Committee

Manages and oversees the medical staff quality and peer review processes; includes membership from the Interdisciplinary Departmental Quality Committees

Gary Noskin, MD; Jay Anderson

Deborah Miller

Patient Family Advisory Council

Engages the perspectives of patients and families to identify opportunities for improvement and develop corrective actions

Gary Noskin, MD; Jay Anderson

Cindy Barnard

Utilization Management Committee

Monitors utilization and makes recommendations for process improvement; works with clinical departments to improve patient care and support

Wilson Hartz III,MD;  Stephanie Kitt

Stephanie Kitt (Sandra Klein)

Pharmacy & Therapeutics Subcommittee:  Therapeutic A

Function--Formulary:  drug focus includes critical care, emergency, anesthesia, GI, psych, cardiac, allergy;

Meets first Wednesday of each month at noon

Tom Krejcie, MD

Bill Budris, RPh

Pharmacy & Therapeutics Subcommittee:  Therapeutic B

Function--Formulary:  drug focus includes oncology, hematology, neurology, immunology, transplant;

Meets fourth Thursday of each month at 7:30am

Eric Terman, MD

Bill Budris, RPh

Pharmacy & Therapeutics Subcommittee:  Medication Safety

Function--all aspects of safe medication use;

Meets second Monday of each month at noon

David Liebovitz, MD

Abby Cooper, RN

Pharmacy & Therapeutics Subcommittee:  Antimicrobial

Function--Formulary:  drug focus is anti-infectives;

Meets first Monday of each month at noon

Maureen Bolon, MD

Viki Barr, Pharm.D.

Academy for Quality Improvement and Safety

AQSI combines the expertise of institutional programs and leaders to provide an interactive, supportive, efficient, and valuable learning experience. Program participants attend 11 classroom sessions, meeting approximately every other week, with each session focused on a quality improvement topic.

Kevin O'Leary, MD

n/a

Structured Inter-Disciplinary Rounds (SIDR)

Dependent upon unit/floor scheduled for each meeting (i.e. 14W)

Pathology

Develops and implements annual quality plans; provides direction in conducting quality reviews; monitors quality outcomes for the department/service

LoAnn Peterson, Julie Rufus

Natalie Garcia-Godos

Neurology

Develops and implements annual quality plans; provides direction in conducting quality reviews; monitors quality outcomes for the department/service

Michael Minieka, Robert Fortney

Krisine Gleason

Stroke

Develops and implements annual quality plans; provides direction in conducting quality reviews; monitors quality outcomes for the department/service

Bernard Bendok, Richard Bernstein

Kristine Gleason

Medical Ethics

Provides consultation regarding ethical values in patient care; develops educational programs and policies related to medical ethics

Transfusion Committee

Monitors and improves  processes and policies for use of blood and blood components

Executive Quality Management Committee

Oversees the exceptional care dashboard; establishes priorities for performance improvement and patient safety; monitors performance of departmental quality committees

Ad Hoc Committee on IT Strategy

Heart Failure/Acute Myocardial Infraction Committee

Central Line Associate Blood Stream Infection Committee (Hem/Onc)
All residents rotate on the general inpatient wards at Northwestern Memorial Hospital. The wards are geographically localized where clinical teams work only on one to two wards (30 beds per ward) thus enhancing team work between clinicians and the rest of the health care team. In addition to geographic localization, all residents participate in structured interdisciplinary rounds. These rounds consist of the entire team in one room – senior resident (or intern), the entire wards nursing staff, pharmacy, physical therapy and social work. The team's resident runs their list of patients covering a checklist of inpatient quality measures ranging from IV's and indwelling urinary catheters, to telemetry needs to discharge planning. Along with improved care, the experience is highly educational to have the full health care team have face to face communication and help each other solve clinical needs for the patient as well as health care system issues. View a video about SIDR on the teaching service from the Center for Education in Medicine. 
As part of the comprehensive competency based curriculum in Systems Based Practice and Improvement (SBPI), and Practice Based Learning and Improvement (PBLI), residents complete these survey evaluation checklists highlighting their exposure to quality and patient safety. The checklists highlight education in quality improvement through teaching cost-effectiveness, preventative medicine, teamwork skills and multi-disciplinary communication, handoffs and navigating the health care system. View recent talks and topics in the residency curriculum offered in quality, safety and learning: IM SBP/PBLI Survey.
SBPI Checklist

Credits

Information

Multi-disciplinary Conferences

1

Schwartz Rounds: Multi-disciplinary end of life care conference. 

Patient Safety M&M – NMH Multidisciplinary Conference

Conferences in SBP

1

Noon conference or Grand Rounds on Practice Management, Health Care Economics or QI.

Health Care Economics Quiz

1

Definitions in macro and micro health care economics.

Inpatient Ward Quality Orientation

1

Review of Inpatient Quality Metrics at start of Ward Rotation.

Inter-disciplinary Rounds (IDR) Evaluation*

3

Participation in IDR rounds. 

Home Health visit

3

Participate in home health visit.

Nursing Home visit*

3

Visit NH during Geriatrics rotation.

Community Health Clinic

3

Saturday morning volunteer clinic coordinating care for the uninsured. [Count continuity clinic at CHC, Erie or Komed-Holman twice]

Code Status Discussion Workshop*

3

Participate in a 2 hour hands on workshop during Intern Boot Camp

Team and Leadership Training*

5

PGY2s participate in ACLS simulation and team training in simulation center.

WEB-Handoff*

5

Web-based curriculum teaching handoffs and transitions of care.

Committee Membership

5

Participate in committee work in Information Technology, Risk Management, QI or with a National Organization.

Informatics Elective

10

A one month elective rotation.

Quality Improvement Project

10

Participate or conduct a QI project.
| | | |
| --- | --- | --- |
| PBLI Checklist | Credits | Information |
| M&M Conference Attendance | 1 | Monthly resident conference reviewing adverse and sentinel events.  Additional multidisciplinary NMH Patient Safety M&M conference. |
| Journal Club Attendance | 1 | Monthly EBM review of recent publications. |
| Autopsy Conference | 1 | Alternate month conference. |
| Conferences in PBLI | 1 | Attend various EBM and Quality/Patient Safety Conference. |
| Point of Care EBM evaluation* | 1 | Present relevant EBM journal articles during inpatient care. Obtain feedback on EBM skills.  |
| Autopsy Review | 2 | Follow up on autopsy of a patient you cared for. |
| Teaching Skills* | 2 | Formalize skills by teaching at one of several didactic or physical diagnosis conferences. |
| Reflection Essay | 3 | Write 1 page reflection essay on an experience that involved an adverse event or disclosure of a medical error. |
| Journal Article Review* | 3 | Critical appraisal of recent journal article.  |
| Continuity Clinic Quality Report* | 3 | Review and follow up on individual quality reports with your NMFF or VA clinic. |
| Geriatrics Practice Improvement Module | 5 | Conduct chart review and patient survey during rotation. |
| M&M Presentation | 5 | Perform Root Cause Analysis on a patient with an Adverse Event and present. |
| Journal Club Presentation | 5 | Present recent EBM journal article. |
| Masters in Science in Clinical Investigation (MSCI) | 15 | Enrolled in Northwestern University master's degree program |
The majority of internal medicine residents maintain continuity clinics at both the Northwestern Medical Faculty Foundation academic practice and at the Veteran's Administration (VA) site. Residents build a panel of patients over time through self-referral and inpatient to outpatient transitions. Standard quality measures for primary care practices in the US are given on a quarterly basis to resident's continuity panels both to guide high quality care to their patients, but also to serve as an educational curriculum to discuss primary care measures and concepts in quality improvement such as public reporting and pay-for-performance. Measures are discussed in a quarterly quality conference and directly with mentors who review reports with residents. Topics from the conference have included: Colon Cancer Screening, Aspirin for Primary Prevention, Bone Health, Pay for Performance, Quality as Research, A Study of VA Quality Initiatives.

Residents have consistently provided high quality care in CAD, CHF, HTN and DM that matches attending practices and is comparable to some of the highest quality ratings in primary care in the country. Preventative services remain an area of improvement but have also been found to reflect a more complex patient population that residents care for.
Some residents have maintained an interest in community health and choose to do one of their two continuity clinics at one of three community health clinics. Opportunities for quality projects in the community health setting are available with mentors in health care disparities and health literacy. Read more about a resident project improving patient education materials at a local community health clinic.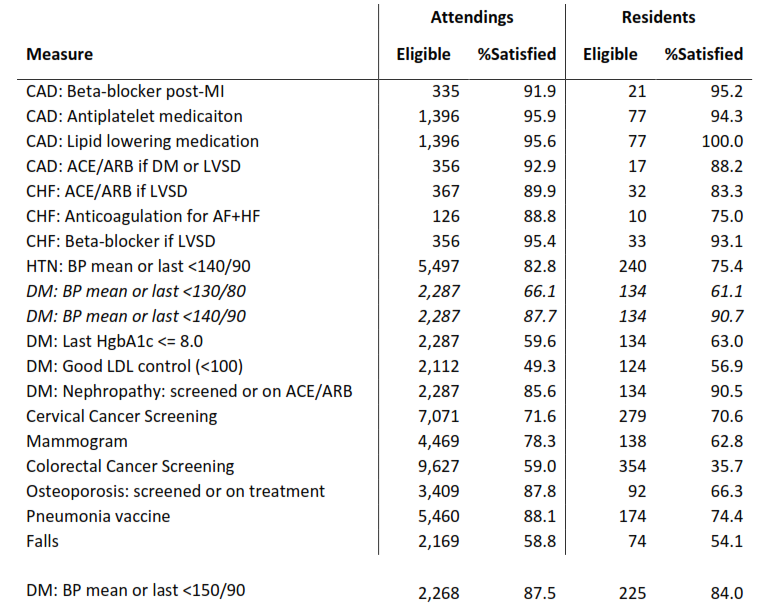 (October 2015 data)
View our Fall 2017 Newsletter here.
View our Spring 2017 Newsletter here. 
View our Fall 2016 Newsletter here.