Division of Pulmonary and Critical Care
Our Division
The Division of Pulmonary and Critical Care Medicine strives to advance our knowledge of lung health and disease through a combination of education and research. Our Pulmonary and Critical Care Fellowship Program provides rigorous clinical and investigative training to the next generation of Pulmonary and Critical Care Physician-Scientists and our mentor based research program provides outstanding laboratory, translational, and clinical investigative training to pre- and post-doctoral trainees.
We have approximately 60 faculty members, 40  of them full-time, dedicated to clinical practice, research, and teaching in Pulmonary and Critical Care. The division boasts a robust research portfolio with over $10 million in annual grants as well as several important gifts. Through Northwestern Medicine care facilities, division faculty offer active clinical services with approximately 20,000 annual patient visits.
Learn more via the links below.
Meet our Faculty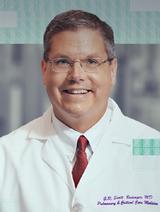 Message from the Chief